It is slowly slowly getting warmer and we have been enjoying the trampoline at my parents house. Now if only we would get real spring. I am so ready for warmer weather. I think it will be somewhat nice today but until we get real spring we can at least pretend.
Sorry about the less then great photos, I am still figuring out our camera. Someday I hope to take lots of good photos but I have a long long ways to go. They are fun anyway right?
I love this one!
While we are waiting for real spring and my ability to take pictures to improve, we can at least practice our flying.
Ben: The up and down, flap your wings style
Heber: The around and around style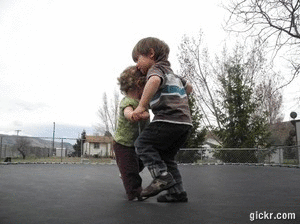 Eeva: Still needs some work getting off the ground.
Hope you have a happy spring day!